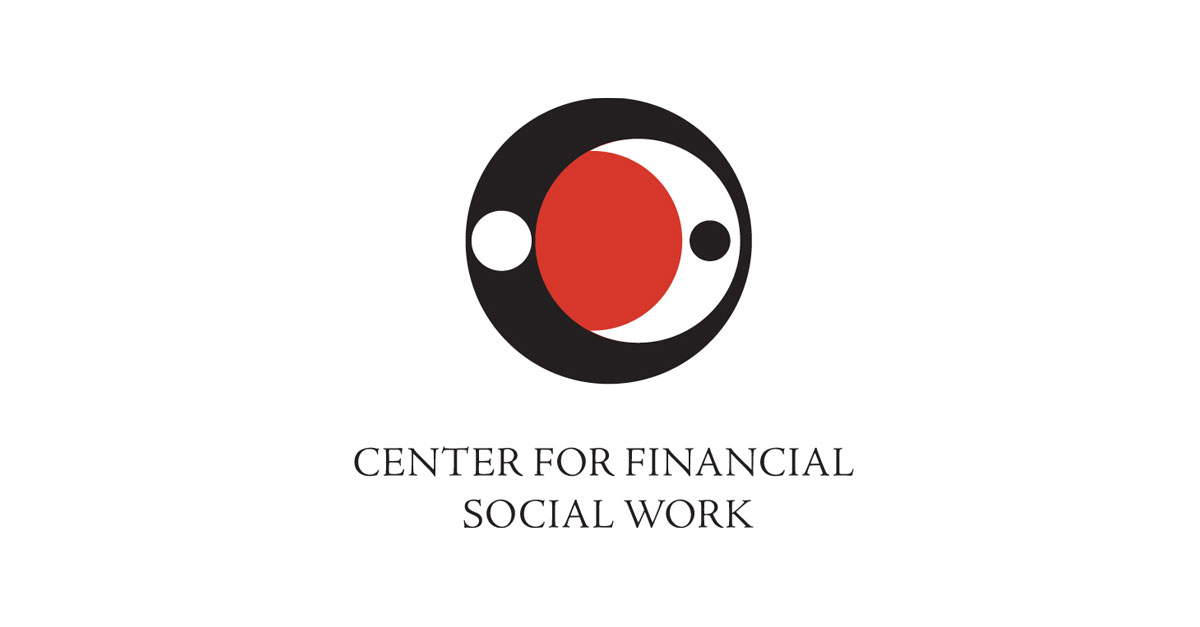 The Center for Financial Social Work
The Center for Financial Social Work's mission is to empower individuals to make healthy long-term money habits and to educate and support professionals who wish to provide a strength-based, psychosocial approach to financial wellbeing to their clients. By addressing the thoughts, feeling and attitudes that determine a person's relationship with money and with self the work provides the foundation for learning the basics of money management. The model of on-going financial education, motivation and support leads to sustainable, long-term financial behavioral change.
If you have any questions about the Center for Financial Social Work, or our products and services, please contact us. We look forward to having you join our community and to guiding and supporting you on your path to learning and teaching healthy money habits leading to improved financial circumstances.
The Center for Financial Social Work currently offers the following services and products developed by Reeta Wolfsohn, CMSW:
Financial Social Work Certification: Help others establish long-lasting healthy money habits leading to greater financial wellbeing with this one-of-a-kind certification. Includes 20 CEUs from national NASW.
Financial Education Support Group Kit: Change how you and your organization deliver financial capability by making it easier to engage clients and help them experience personal growth while improving their financial futures.
Money Mini-Posters: Each "Money Mini-Poster" features a money lesson on a particular topic, plus helpful tips and strategies clients can use to improve their financial health. Once purchased, the "Money Mini-Posters" are meant to be reproduced, discussed and given to clients to reinforce and review the topic.
A Brief History of the Financial Social Work Discipline
Reeta Wolfsohn's interactive, introspective behavioral model began to take shape in 1997 as "Femonomics (the Gender of Money)" when her discipline focused on finances and the female gender. Financial Social Work evolved from Femonomics in 2003 it became clear that the issues and problems the work addressed were not gender-specific.
Since 2003, the Financial Social Work model has continued to build momentum as a strength-based, psychosocial approach to financial empowerment that incorporates on-going education, motivation and support. The course-work and certification offered by the Center for Financial Social Work is appropriate for a wide-range of professions and is easily adaptable to different client populations. If your goal is to gain the knowledge and tools to empower others to take control of their money and lives, then the Financial Social Work discipline is right for you.
A Few Financial Social Work Highlights: 1997 – Present
Educational & Research
Started "Femonomics," the Gender of Money that evolved into Financial Social Work.
Created first Financial Social Work position in NC – Dept. of Social Services.
Taught first Financial Social Work graduate level course at University of Maryland in January of 2009. (Prior to that, the FSW model had initially been introduced by Reeta Wolfsohn via a half-day continuing education training program in 2008).
Financial Social Work graduates surveyed for UNC Chapel Hill School of Social Work 2009 research on social workers' interest in building financial capability.
Financial Social Work curriculum to be has been taught as an elective class at the University of Kentucky since 2011.
Received NASW approval in 2013 to award 20 continuing contact hours to all CFSW students who complete and pass the FSW certification program and final exam.
The FSW model, researched for efficacy in a 3 year pre-post study by United Way, was noted in 2015 to provide significant positive changes for participants and case managers in terms of knowledge gain, number of positive financial behaviors, reduction of debt, and improved self-sufficiency overall.
Keynoted, trained and presented at many national and state conferences across the U.S. including the: Council on Social Work Education (CSWE), Employee Assistance Professionals Association (EAPA), Financial Therapy Association (FTA), National Association of Social Workers (NASW), National Network to End Domestic Violence (NNEDV) and more.
Certified Financial Social Workers, Counselors and Educator/Coaches across the US and in other countries.
Press & Publications
Our Founder
Reeta Wolfsohn, CMSW
As the founder of Financial Social Work (FSW) and the Financial Therapy Network (FTN), Reeta Wolfsohn, CMSW, has dedicated almost twenty years to empowering individuals to take control of their money in order to gain control of their lives. Her work provides social workers, community advocates, human service providers and consumers with a proven and positive method for achieving financial wellbeing.